ATTENTION: JV Partners & Affiliates!
Thank You For Your Interest In
Promoting The PLR Dealer Membership
For Residual Commissions!
This takes just seconds and you can begin
making money NOW and get paid MONTHLY!
You can give away free memberships to PLR Dealer and build a massive residual income at the same time. The best part is, you don't have to do any hard selling, we do all the hard work for you!
All you need to promote is your affiliate link and you will earn 40% every month on the following (50% with "bump" code):
New Member Elite Membership Special: Sells for $17.00/month.
Time Limited Elite Membership Special: Sells for $19.97/month.
Regular PLR Dealer Elite Membership: Sells for $27.00/month.
Affiliate Program Powered By JVZoo
Get your affiliate link below:
(Make sure you signup to get your
bump code
first!)
* Please tell me how you plan to promote PLR Dealer.
The way we have it setup (and what some vendors seem to miss on JVZoo) is so that, you only need to request ONE affiliate link, and still get paid on all levels!
This keeps things nice, simple, and completely fair for our affiliates so you don't miss any commissions. Plus it's the recommended way by JVZoo.
You can get a free JVZoo account here
So, how do you get paid?
We are using JVZoo so we can take advantage of Paypal's Adaptive Payments System so that all commission payments go out to you automatically. We guarantee you will always be paid prompt and on time.
As you can see, it's easy to earn a staggering income just by giving away free memberships and our "Elite Membership" is converting like CRAZY so make sure you get started right away!
Email Swipes
Email #1 Subject:
Email Body:
Email #2 Subject:
Email Body:
Email #3 Subject:
Email Body:
Email #4 Subject:
Email Body:
Email #5 Subject:
Email Body:
Banners
468x60


234x60


250x250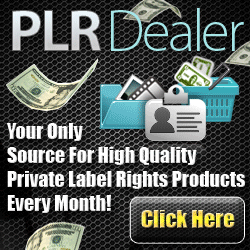 125x125


120x60


120x300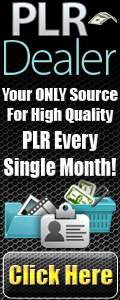 120x600


160x600


So get out there and make yourself a killing and I look forward to working with you as a partner in sales!
To Your Success,


PS. – This is NOT one of those affiliate programs where you sign-up and the rest is up to you to figure out. I maintain a close relationship with each and every one of my affiliates. As my affiliate partner, you can rest assured that if you have questions or you need some extra help, I am always ready to help. Your success IS my success.
Tweet