From: Jason Oickle
Date:
Re: Your Free Monthly PLR Products!
It's getting pretty hard to find good high quality private label rights products these days. You could spend hours scouring the web looking for a PLR product you think looks good, then you drop a few bucks on it…
Then when you go over the material, you find that you can't understand a word of it!
Does it sound familiar?
Or even worse, you notice that after you've downloaded the PLR product and started to read it, you already bought the same thing like a month ago… They had different names so you didn't notice at first, but the content was the same!
Don't feel bad though if this stuff happens to you, because to be honest, it has happened to me too… on a number of occasions!
There is just so much PLR content drifting around in the internet marketing space… It's all starting to get renamed, recycled and redistributed… and the quality just seems to keep getting worse.
If You're Sick Of Buying Junk PLR Content, I'll
Give You The High Quality Private Label Rights
You Deserve... For FREE!
That's right, I'm going to completely eliminate this problem for you right now by handing you a high quality PLR niche product every month!
Just check out the cool benefit's of becoming a PLR Dealer free member now:

One Niche eBook With Private
Label Rights Every Month
Every single month, Every single month,
I'll give you a fresh eBook
in a hot, in demand niche topic.
What type of topics can you expect? Just take a look some of the hot niches to look forward in the future:
Understanding Addiction
Allergies and Relief
Living with Bipolar Disorder
Time Management
Career Planning
Goal Setting
I'm talking about hot,
in demand topics that are truly evergreen
. People will ALWAYS be looking for exactly this kind of information, so the market will always be there for them.
Medical topics, self improvement, physical activities, home improvement… these have been in demand for a long time, and will be for a long time to come. So as you can see,
I focus on hot in demand niches!
(Note: The topics listed above do not necessarily represent the current months product. They're just used to show what kind of quality content you can expect in the future)


Complete Sales Letter, Graphics
And Download Page
You'll also get everything you need to start selling these hot PLR eBooks immediately:
Professionally written sales letter

Download Page
Professionally Designed Website Graphics
Your complete graphics package also includes:
Header
Footer
Order Button
3D Cover
Flat Cover
Background Image
Personally, I've seen tons of PLR products that don't even come with a salesletter, so you're stuck spending a ton of extra money for a copywriter and a graphics designer
Here at PLR Dealer, you just simply need to make a few changes to the website I provide, upload it to your web server and start sending traffic. Let the salesletter take care of the rest.

Your PLR Dealer Membership Is FREE,
When You Join Right Now!
Seriously though, every month I will give you a high quality PLR product in a hot in-demand niche. The only thing you need to do is upload the product and website, start sending traffic and collecting payments from your new product.
Quick Tip: As with any PLR product, you should make some changes so your product will be unique and stand out from the crowd. This will greatly increase your chances of success with these private label rights products.
Speaking of PLR tips…

You'll Finally Crush The 7 Deadly Sins Of PLR
With This Bonus Free Report & Mp3 Audio!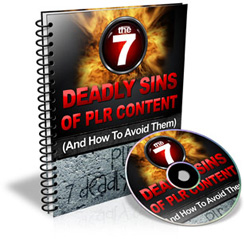 Don't know where to start with PLR?
I'll show you exactly how to use private label rights so you can extract the most profits with this
FREE Report And Mp3 Audio
!
Isn't it time to
stop wasting money on Private Label Rights and learn exactly how to use it to it's fullest potential
?
Just create a free membership now, even if it's just to receive my very special report, "The Seven Deadly Sins Of PLR Content (And How To Avoid Them)".

While PLR Dealer is free to join right now, it might come with a price tag tomorrow. Remember, it does in fact cost me money to have these products created for you, so I'm sure you'll understand if I suddenly decide to start charging for these memberships…
But if you join right now, you'll lock in your free membership and never have to pay me a cent, even if I start charging!
So take a quick second and join PLR Dealer for free below:
P.S. – I assume that since you didn't already sign up, you don't see the true value that getting high quality PLR products for free each month will give you? If you'd prefer to keep hunting for your private label rights content (and getting disappointed when you find the content is not what you wanted), then feel free to pass on this limited free offer…
…Just don't be surprised if when you come back, you can't join for free anymore. So tell me, what have you got to lose? It's FREE! Who knows, it could be exactly what you've been hunting for!